Sasha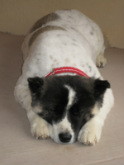 Sasha is mainly based on our male Long-coat Akita Chewbacca. Chewie came to us as a rescue, and while he might have been named for his size and hairiness, we think it's because he talks like a Wookiee. He is incredibly sweet, not just a bit needy, and often underfoot - not something to be taken lightly in a hundred-pound dog!

But he definitely deserves to be immortalized. After watching the movie Hachi, we gave some brief thought to renaming him Hachu - but that would make Leia Gesundheit, which we thought would be a bit much.

This is him, sheared for the summer. He'd prefer to live in a cooler climate, but the most important thing is being in a household where he is loved. He most definitely is.
---
Chewbacca and his puppy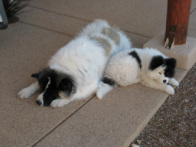 Chewie didn't do well alone. He was denied much of the human contact he craves in his previous home, and since it's too warm in Arizona to keep him with us in the car much of the time, we got him a puppy. She is also a Long-coat, chosen because she bears a resemblance to him, although they're not related other than being the same breed. Of course, since he was named Chewbacca, there was only one good choice of a name for her. Princess Leia is now five and a half years old and much larger than in this picture. She weighs eighty pounds to his hundred and actually stands a bit taller - but she is still a puppy and loves her toys. Especially him. I keep having to tell her that 'Chewie' is a name, not a job description. She has some serious issues about people she doesn't know, but she is sweet as can be and, overall, is a very happy dog. That's good. Of course, we haven't forgotten that 'Destructo, the Terrycloth Terrorist' was inspired by her actions. Luckily she didn't do as much damage - either time - as Sasha did.

---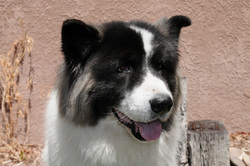 On March 9, 2015, with heavy hearts, we sent Chewie off to Rainbow Bridge. It was his time. This is the obituary I wrote for him.


We sent Chewie on to Rainbow Bridge today, to join all of our other beloved furry family members – Laska, Finnegan, Rikki, Apollo, Figaro and Djinni.

He'd had a decent life overall, or so we'd like to think. We got him as a rescue at the age of six, in 2008. The abuse he'd suffered, from what we were told, was being shoved outside (in Colorado!) and left for months with virtually no human contact, and he was SUCH a people dog. We gave him people. We gave him a forever home, and we were very happy to be able to do so.

We first thought he'd been named Chewbacca simply because he was big and hairy – but once he realized that he was in his home, not just another way station, and we were his people, he began to talk. He talked a lot in the early days, less so now. But he still talked just like a wookiee. That had to be the origin of his name, or so we decided.

He was a wonderful friend. Big, hairy, affectionate without being slobbery and endlessly happy just to be with us. Unless you had some food, of course, and then you were his special friend forever and ever, or at least as long as the food held out.

But he didn't take well to being left alone in the house during the day, and for too much of the year where we were, he couldn't be left in the car while we went into some place, so we got him a puppy. What name can you possibly give a female dog to go with a dog named Chewbacca? Princess Leia came to live with us, and the two of them got along fabulously. He spent much of his time as her favorite chew toy – my frequent line was 'Dammit, Leia, 'Chewie' is a name, not a job description!' but he rarely minded. When he did, he could stop her with a few well-chosen remarks and didn't hesitate to do so.

In about 2011, he developed cancer – a thymoma – that we found quite by accident. Thank God for Embrace Pet Insurance, because without it, we'd have had to put him down right then (Embrace has been absolutely fabulous, and never failed to ask how he was doing). He came through the surgery very well, but we could never get his pain medications properly balanced during his recovery. He had two conditions – either way too little and thus in serious pain or else completely gorked out. He did learn to trust, though. He couldn't lie down on his own, because to get onto his side he had to first lie down on the chest that had just been cracked. I'd hold him and ease him down directly onto his side, and he learned to let me do it. At one point, we were going to put him down because we just couldn't seem to help him. But we asked him for a sign, and within the hour, he rallied – and then recovered. Never again a young dog, he remained at least a reasonably active adult for years.

In 2013, he developed bloat, which is often deadly in large dogs. This, naturally, was literally minutes before Cynthia's book club met here at the house, much too late to cancel it. I wound up taking him to the vet's, and then to the veterinary surgeon, but it was less serious surgery, and again he came through with flying colors. He's really been through a lot in his life.

Lately he has clearly been dementing. His mornings were fine, other than the (relatively minor) problem that he couldn't begin to keep up with Leia while walking. Some time ago we began walking them separately and then made his walks shorter. Now they're much shorter. He became so slow walking that we had to alternate with him – walking him was sometimes painful to us because of the adjustments we had to make, the way we had to hold back just to let him walk. But about a week ago, he began sundowning – becoming increasingly bewildered and worried after the sun went down, unable to simply lie down in the bedroom and go to sleep once we were both there, because he just didn't understand what was going on or what was expected of him. That was clear in his eyes, and it's horribly painful to see.

Deciding that it's time to let a beloved friend go is never easy. I'm typing this in the morning, while he's still lying in the hallway outside the study, because I won't be able to later, and I know that this afternoon we're going to send him on to the Bridge. I've got tears in my eyes and a lump in my throat. I have to stop every so often and simply let the tears flow. I don't have this sort of problem losing most people, but Chewie - like all of our dogs, honestly – is truly a special friend. I have to bid him farewell. It's time. It's harder to contemplate when he's clear and alert, but I know he won't be, as his episodes of dementing become more frequent. And he won't rally, not this time. He's not coming back. It will get worse for us before it gets better, but it will get better. I keep telling myself that.

Tomorrow will dawn bright and clear. The Mammillaria cactus, roses, honeysuckle and crossvines will still be blooming in the yard. The citrus trees will still be covered in flowers and smell heavenly. Here in this house, though, it will be that much dimmer and less happy. Our dear friend will not be here for us any more. The world will go on, and in the greater scheme of life, it will go on completely unchanged. Such is the way of things. Here, our world will be forever changed. There will be one less delight, one less good friend, one less blessed soul in a house that will seem – that will be emptier. No Chewie to trip over. No Chewie lying on the patio, watching me work in the yard. No Chewie, hoping for food or another treat. Plenty of tears, but they cannot, will never be able to fill the emptiness. All they can do is express it without words.

Goodbye, Chewie, our dear and beloved friend. Nobody can ever replace you in our hearts. Nobody can ever replace you in our lives. You leave us with a huge Chewbacca-shaped hole in our hearts that only you were able to fill. In time, it will scab over and the pain will diminish. It will never quite disappear, just as the pain of losing our earlier furry family members has never quite disappeared. You will always be remembered; you will always be missed. And we'll see you again, with all of them, at Rainbow Bridge, never fear. Please be there for us.


---
Bruno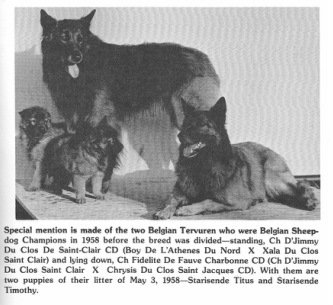 Bruno is a bit of a puzzle to me. I have never had a Malinois, nor have I had
any serious dealings with any. I love Belgians. There is a historic picture, shown here, that was, years ago, well-known in Belgian circles, showing a family of Tervuren -
dog, bitch and two puppies. I was going through breed encyclopedias after moving out of student housing, when I could have a dog, when I turned a page and saw that picture. I'd been drawn to German Shepherds all my life, to my parents' distress (one family we knew when I was very, very small had one named, I think, Ilex, whom I adored), but when I saw that picture, my response was, 'That's the dog I've been looking for my entire life.' I've loved them ever since. I have had Belgian Sheepdogs and Belgian Tervuren, the two long-haired varieties, but never a Malinois. Personally, I would have chosen a Terv or even a Groenendael (Belgian Sheepdog), but Bruno had a mind of his own. I didn't plan him into the story. I was writing away one day and he walked in to the story, lay down and made himself at home. I took that as a bit of an omen and let him stay. I'm glad I did. He's a fine boy and he takes good care of Amy, Alec, Becky and Betsy.

---
Djinni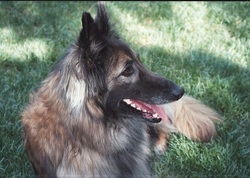 Djinni was our last Tervuren - to date, actually, our last Belgian of any kind. She was born in January of 1993, about thirteen months after our sudden and traumatic loss of our previous Terv, Finnegan. We first met her at the breeder's when she was all of three days old and her eyes were still closed. I knew right away that she was the puppy I wanted out of the litter of four, and we visited her every week until we could take her home in March. Oh, she was furious! Then she arrived at our house, our aged Husky Laska adopted her and she was happy. She died in August of 2007, and we miss her terribly to this day. She loved the games she and I played, and she loved to cuddle. When Figaro, our failed German Shepherd guide dog puppy, came back to us, she went from being my dog to being my partner's dog - but always loved us both. Insofar as there is a model for Callie, it would be her. We'll look for her at Rainbow Bridge.
---
Figaro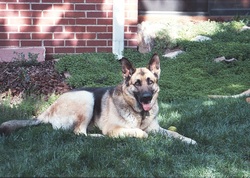 Figaro originally came to us as a guide dog puppy to raise, our second. Partway through, he went to another home to be close to the Guide Dogs vet clinic. When he went back for his serious training, it turned out that he had no intention of working for a living. We took him back right away, and were quite distressed to discover that he didn't know us when he arrived. He knew our dogs, though, and remembered us soon enough. He died way too early, very suddenly, and we still don't know why. He was truly a special friend, and he, too, will be looked for at Rainbow Bridge.
---
Apollo and Caesar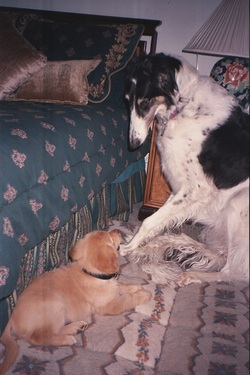 Apollo was my partner's special dog friend. How very lucky to have had one!

And he was huge. Skinny, something we have no experience of, he stood forty inches at the shoulder and forty-two at the crest of his back. The only dog I've ever seen who stood as high was one of his litter brothers, but he was a most gentle and even somewhat timid dog. He loved Golden Retrievers for some reason we never figured out. We hope to find him at Rainbow Bridge, too.

Caesar was our first guide dog puppy. Very sweet, somewhat hard-headed and very energetic. After he was dropped, we could have taken him back, but he was dropped for less-than-perfect hips and we thought it better not to take the chance. Last we saw of him, he was with a family in Aurora, CO and his effective name had been changed to 'Baby baby.' They doted on him, loved him dearly and he reciprocated. We were thrilled for all concerned.
---
Rainbow Bridge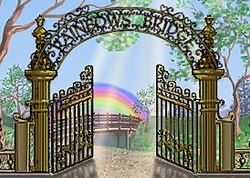 Just this side of heaven is a place called Rainbow Bridge.

When an animal dies that has been especially close to someone here, that pet goes to Rainbow Bridge. There are meadows and hills for all of our special friends so they can run and play together.
There is plenty of food, water and sunshine, and our friends are warm and comfortable.

All the animals who had been ill and old are restored to health and vigor; those who were hurt or maimed are made whole and strong again, just as we remember them in our dreams of days and times gone by.

The animals are happy and content, except for one small thing; they each miss someone very special to them, who had to be left behind.

They all run and play together, but the day comes when one suddenly stops and looks into the distance. His bright eyes are intent; His eager body quivers. Suddenly he begins to run from the group, flying over the green grass, his legs carrying him faster and faster.

You have been spotted, and when you and your special friend finally meet, you cling together in joyous reunion, never to be parted again. The happy kisses rain upon your face; your hands again caress the beloved head, and you look once more into the trusting eyes of your pet, so long gone from your life but never absent from your heart.

Then you cross Rainbow Bridge together....

Author unknown...

---