Hideaway Knife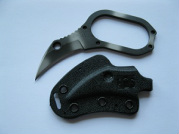 At some level, the concept of the Hideaway Knife spurred the development of No Third Choice. They come in a variety of shapes - this is the claw, like Amy carries behind her back. I expect the one on her ankle is a straight, if only because it's easier to carry that shape in such a position. The one that's clipped onto her bra - I've never seen it, so I can't say. Perhaps Alec could tell you.
---
Kahr PM40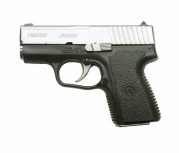 Amy carries one in a shoulder holster all day, every day. Reesa carries one in an ankle holster as her backup. There may be something smaller that packs a bigger punch, but if so, I've never heard of it, other than some derringers, and they only have two shots. This one has six with a fast reload of another six.

Because it's light - that frame is polymer - recoil is serious. It is not a pleasant gun to shoot, but you don't get something for nothing. It's a pistol you carry because you may need it, not one you pick up to shoot because it's fun. Unless you really get off on recoil, that is.
---
Classic Custom by Ed Brown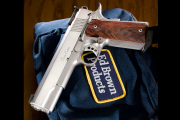 Some people would call this the Cadillac of 1911's. Personally, I'd see that as an insult. Try Rolls Royce. Or Ferrari. Or - but you get the idea. I don't have one; I can't manage the cost. But Amy has one, and I'm jealous of her!

I started shooting .45's over forty years ago. More modern designs come and go, but nothing is quite as much a constant in my life as a good 1911 .45. How many guns are going so strong at their hundredth birthday that they are probably the most-copied gun in the world? John Moses Browning made a miracle.
---
Colonel Jeff Cooper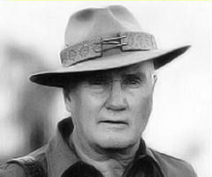 I should probably make this entry about IPSC, the International Practical Shooting Confederation. The problem is that IPSC as it is now is nothing like it was when I shot in it, which is what I had in mind for when Amy shot in it. When Col. Cooper originally set it up, the key word was practical. I could show up and be competitive with very little gear and that mostly over-the-counter. Nowadays, if you're not an athlete with a super-modified 'race gun,' you're not going to be competitive in the matches, other than in certain restricted categories. Nevertheless, Col. Cooper's ideas were remarkable at the time and he is truly one of the great minds in the development of modern shooting.

He is also the person responsible for Amy's age. I would have made her a bit younger, but that course at Gunsite which she got as her high school graduation present was important to her development as a character, and for various reasons, it had to occur before Col. Cooper sold Gunsite. That in turn determined when she graduated from high school, and the rest is history.

I met him once. I wish I could have gotten to know him. May he rest in peace, wherever he is now.
---
Tucson Trap & Skeet

Not only is TTSC a premier place to shoot clay birds - Like Amy, I don't hunt, but love shooting shotguns - but it also is indirectly one of the major sources of the books. I live about thirty-five miles from the club, and most of that distance cannot be driven on freeways. For a while, I was shooting there twice a week. I developed and refined the concept of the Family on the drive. It is where Amy and her father shot clay birds when he tried living west of town.
---